Cryonie (formerly Advanced Editor) is a code editor with unique features, written in JavaScript and based on Ace and Electron.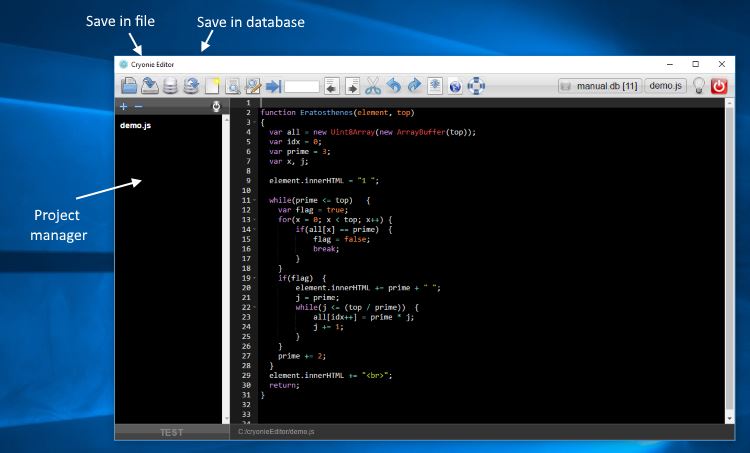 Features
Load and save your code either in files, or in a database.
Change project in one click.
Many useful editing features. Example: juste type a line number in the input field and the code is displayed. Comment/uncomment in one click.
Supports all popular programming languages, markdown and HTML.
Why a database?
The database you have created is easy to use in an application. It can be loaded on a web site with SQL.js and you can use functions and objects stored in the database if they are written in JavaScript or WebAssembly.
The database then works like a module, with the advantage you can change the content or add new functions dynamically. Your program can become evolutive, learn from its results and then modify its methods and replace them to the base.
Install Cryonie Editor
Install Node.js.
Install Electron with this command:

npm install electron -g

Download Cryonie and extract the contents.
Create an icon on the desktop holding this command:

electron c:\cryonieEditor\

The system will update the electron path. The working directory is that of Cryonie.
Click on the icon to start the program.