Once upon a time Google
Google's philosophy combines  what makes the success of Microsoft and Apple combined: Like Microsoft  it takes on his own all the products that have success, but like Apple gives them an intuitive user interface. And it is characterized by free, products being financed by advertising.
At Mountain View, California, is the headquarters of the main Web company, the GooglePlex. Google is not only a search engine, but also a multitude of services and mainly the monetization of sites and blogs, but also technologies available to Webmasters.
Its objective is: "To organize the world's information and make it universally accessible and useful". With that well defined philosophy: "The work should be a challenge, and the challenge should be fun."
On August 10, 2015, Larry Page announced a restructuring of the firm. Google will be part of a group whose parent company is called Alphabet, headed by him and co-founder of Google. Sundar Pichai becomes the new CEO of Google after his role as products manager.
In 1988, 3600 windows were replaced in the future building of Google.
History
Larry Page and Sergey Brin founded Google September 7, 1998 with more than a million dollars of funds. They had previously registered the domain name on September 15, 1997. They were students at Stanford University and started the engine as a research project in 1994. It was a program called BackRub who felt the importance of sites by the number of links pointing on them. The first patent on the PageRank was filed in September 2001.
The company would be called Googol, for a number of pages with 100 zeros, but the domain name was already in use. According to another close source a team member typed Google instead of Googol to see if the domain was free, which was the case. This word has pleased Larry Page who decided to keep it.
The two students have offered to sell their technology between 1 and 1.6 million dollars to several search engines, Infoseek, Lycos, who saw no interest, and especially Excite, one of the major search engines at the time, with which there were many talks, but with no agreement on price, so they created their own site.
In early 1999, Page and Brin have had serious discussions with George Bell, the CEO who has rejected an offer to buy Google for $ 1 million. They then discussed with Vinod Khosla to Offer $ 750,000, also refused. Google is worth 170 billion in 2010.
Who remembers Excite?
The success of the search engine on competitors comes partly from the clean home page, and partly from the PageRank algorithm, which was providing more accurate results.
But the fortune of the company comes mainly from Adsense, its democratic advertising system allowing any website to earn income thanks to its contents.
In 2001, Eric Schmidt, CEO of Novell for 4 years, takes the direction of Google and stay here for 10 years.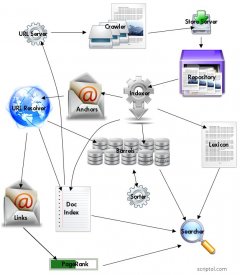 New management
On April 4, 2011 Larry Page, a cofounder of Google replaced Eric Schmidt as CEO. What has changed since then:
Implementation of Panda, which penalizes 15% of sites in English in the world.
Move to social networks with the release of Google+.
Closed July 20 Google Labs, the testing center for new projects.
The same day, the Google Directory based on Dmoz, is closed.
Change in people. Women are excluded from management including Marissa Meyer, who headed the search engine (she is now CEO of Yahoo).
Steve Jobs had a mission, shortly before his death, to advise the leaders of other computer companies.
He advised Page to significantly reduce the number of products. Apple has little products,  5 products and its succeeds much.
The council was followed as that can be verified in the obituary of websites. Google has closed a number of sites and services.
Google products? Search, mail, mobile and netbook OS, social network, cartography, online apps (Docs), video, programming languages, file system, databases, news, mobile manufacturer, driverless car, augmented reality glasses, fiber.
Has Google changed with the new management? In a blog post intitled Why I left Google, a former employee explains Google is now a different company, focused mainly on revenues, without the desire to invent the future.
Google becomes a subsidiary
5 years later, Google changes its CEO again, and like Microsoft, put an Indian to his head, Sundar Pichai. Google becomes a member of a larger company, Alphabet, but Youtube, Maps, Android remains its products. All the staff of Google becomes that of Alphabet and shareholders of Google become those of Alphabet.
Among the products of Alphabet: Calico, X, Fiber, Nest and ... Google.
Google against the rest of the World
| Competitor | Google | Result |
| --- | --- | --- |
| Altavista | Google Search | Success |
| Overture | Adsense | Success |
| Hotmail | Gmail | Success |
| Friendster | Orkut | Fail |
| Firefox/IE | Chrome | Success |
| Facebook | Google+ | Mixed success |
| Groupon | Offers | ? |
| Wikipedia | Knol | Fail |
| Paypal | Checkout | Fail |
| Yelp | Places | ? |
| iOS | Android | Success |
| Windows | Chrome OS | ? |
To each successful business on the web, Google is trying to oppose a similar service.
But there are also areas where it is Google the precursor: Maps, Earth. And where it is copied by Microsoft. Another success is Youtube, bought from another enterprise.
Google+ comes after Orkut and Buzz that failed.
For now, Paypal, Craiglist, Digg and Amazon are missing in the list of targets and the field of games where Microsoft is successful.
Litigations
Investigation for abuse of dominant position has been launched by the Federal Trade Commission in July 2011.
These are many complaints from businesses that feel aggrieved by the practices of search engine that are the source of the survey, which reached the U.S. after the equivalent in Europe.
The main complaint about Google is it does not apply the same rules to its services as competing services, so they arrive at the top of the results whatever they do.
And as the company diversifies more and more, the malcontents are becoming more numerous.
In the worst case this could havelead to the dismantling of the company, but it 2013, this was solved with a fine.
In Europa Foundem and two other firms backed by Microsoft complained to the European Commission to have been removed from Google's search results. These are price comparison sites and Google decided to penalize those sites that only redirect on other sites. Google answered in a post.
The Google galaxy
Web services
New services are developed by Google Labs, others come from buyout, and then once acquired, almost all become free.
Search engine

Google is the most used search engine before Yahoo and Bing with around 60% of Worldwide queries.
But beyond the search engine, Google has also experimental projects. Custom Search in particular allows to create its own engine on Google's index.

Automated translation

Unlike other programs that make a grammatical and semantics analysis of sentences, Google uses the texts in several languages in its index, and take infos on these translations to translate the proposed text.

Messaging

The Gmail online messaging service has an effective spam filtering and which can be augmented with other services, including research in emails.

Advertisement

The principle of this system of cost per click or views, based on keywords bids had been invented by Goto.com that then became Overture is used by Adsense and Admob for mobiles.

Mapping and earth in 3D

Google Earth show the planet in three dimensions, thanks to satellite supplied images. Earth contains a flight simulator and a driving simulator.

Social network

After Orkut and Buzz, Google tooks up the problem of the social network from a new angle, mimicking Facebook with improvements in Google+ and the result was very different. This alternative attempts to provide original services and is constantly growing.

Hosting

Google App Engine est a free hosting for Web application. It is intended to help startups to build easily a website that combines other Google services such as Maps. It is supplemented by Google Site and Google code for open source projects.

Videos sharing

With Youtube.

Library

Scan of all the books in the World.

Museum

Visit through Street View.

Ecological Foundation

Google.org wants to promote ecology and particularly cleaner energies.
Software and frameworks
Chrome

Browser aimed at improving processing of web applications.

Native client

Platform based on LLVM, working in the browser.

Android

It is an operating system and a user interface for mobile phones.
A Java API is provided to enable the development of applications.

Chrome OS

A system for web applications only.

Maps

Free Web service and collaborative cartography. Thanks to the API it is possible to combine maps and services, thus making it possible to locate them.

Web Toolkit

The Google Web Toolkit is an Ajax and Java framework to create Web applications. For dedicated hosting.

Go and Dart

Programming language for system developers and web apps. For example Go, a minimalist C++ with coroutines and Dart, a modern C with classes and garbage collector.
Hardware
Google entered the mobile market on January 5, 2009 with the Nexus One superphone, running Android 2.1, followed by Nexus S. Other devices are planned including a tablet running Chrome OS.
With the acquisition of Motorola Mobility in 2012 it became smartphone manufacturer in its own right.
See also
Services
Takeout. Delete all personal data Google stored about you.
References